Rhode Island Personal Injury Lawyer
Personal Injury
Personal injury can take many forms, e.g., automobile accidents, slip and falls, medical malpractice. When you're injured as a result of someone else's negligence, you probably need the assistance of an experienced injury lawyer to obtain fair compensation.
Many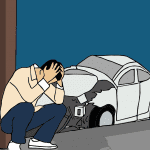 people try to settle their claims by themselves and are taken advantage of by car insurance adjusters whose job it is to settle for as little as possible. Claimants representing themselves are often trying to avoid legal fees and end up receiving a fraction of what they would have gotten with the representation of a competent attorney. More often these claimants start off representing themselves and call an attorney only after they realize they are in over their heads. By this time they often have compromised their case by providing the adjuster with self-incriminating statements and by failing to properly preserve or prepare evidence.
Even if you do not believe you were seriously injured, the seriousness of the injury can manifest itself later. By the time you realize how serious it is, you may have already compromised your case. Contact us to secure experienced, professional, representation for your personal injury case.
Car accident cases, medical malpractice and even slip and fall cases can be very difficult to properly maintain. We have over 30 years of experience litigating personal injury cases for injured Rhode Islanders in Warwick and throughout the rest of the state. Call now to discuss your case with a seasoned car accident lawyer. You owe it to yourself and your family to make sure you are competently represented.